Domestic Violence Increases in Utah County, UVU Offers Insight and Help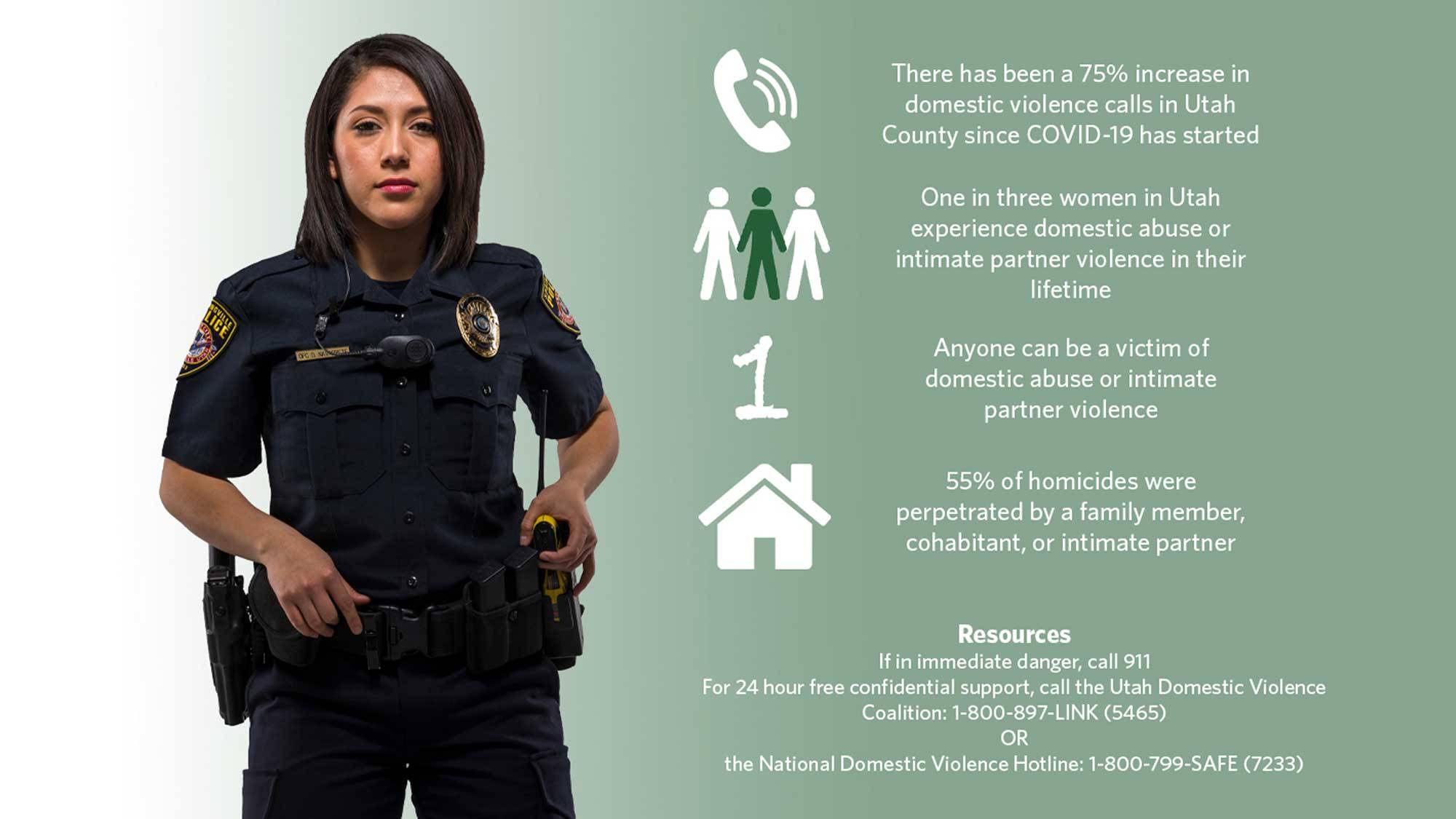 One of the unforeseen consequences of the COVID-19 pandemic is a sudden increase in domestic violence. Utah County dispatchers have reported a 75% increase in domestic violence-related phone calls.
Bobbi Kassel, department chair of the Utah Valley University Criminal Justice Department and advocate for victims of domestic violence, explained the sudden jump.
"During this pandemic, people are being told to stay home and stay safe. While that seems like great advice for everyone, but that advice puts other people at risk for domestic violence," she said. "Stress levels are exceptionally high right now. People are worried about contracting COVID-19. People are stressed about their finances. Some people are stressed about making sure their children finish the school year. Others may be stressed about how they are going to put food on the table for their family. Tensions within the home are at an all-time high for many individuals and families."
Staying home protects people from transmitting the highly infectious COVID-19 virus, but staying at home is not always a happy, safe, or ideal situation for everyone.
"During an abusive cycle, victims may normally have opportunities to separate themselves from their abuser. A spouse may be able to escape by going to work, or their abuser is going to work. Children escape abuse by going to school. These instances of being able to distance themselves from the abuser are not happening with this pandemic," Kassel said. 
Being in social isolation or quarantine can make it difficult for victims to reach out for help. Abusers are home more often, and there can be less opportunity for a victim to privately access resources for help. But Kassel recommends that if a victim can reach out, that they talk to a victim advocate.
"Oftentimes victims are worried about reporting the abuse to the police; however, each police department has a victim advocate, and the advocate can give advice and resource information to the victim without having to report an incident to a police officer," Kassel said.
There are many resources available to those suffering from domestic violence. "If someone is in danger, call 911 immediately," Kassel said. "The Utah Domestic Violence Coalition provides free and confidential support to people 24 hours a day, 7 days a week: 1-800-897-LINK (5465). The National Domestic Violence Hotline also provides free and confidential support to people 24 hours a day, 7 days a week: 1-800-799-SAFE (7233)."
The Women's Success Center at UVU also provides resources that are helpful to those who have survived domestic violence and are looking to take the next step in their future, including the Women's Independent Scholarship Program (WISP) for women who have survived intimate partner abuse and are pursuing an education. 
"The WISP scholarship is a great resource because it not only has the potential to cover tuition, fees, and books, but also expenses such as childcare and transportation as well. This funding can provide a stepping-stone for survivors to earn a degree and ultimately achieve economic independence for themselves and their children," said Holly Coutts, a coordinator for the UVU Women's Success Center.
The Women's Success Center also offers a variety of workshops designed to help women prepare for things like life changes. One of these workshops is for navigating life transitions and is ideal for those who are leaving unhealthy relationships. "The workshop includes important topics such as boundaries, self-esteem, resiliency, assertiveness, communications, conflict resolution and the difference between healthy and unhealthy relationships," Coutts explained. "Career exploration and back-to-school information are provided as well." 
This workshop provides important opportunities for survivors to form a tight-knit community of friends and instructors in a safe environment while they prepare to make changes. "This sense of connection and belonging can be important for those who are leaving unhealthy relationships," Coutts said. "The purpose of the workshop is to assist participants in preparing individually for whatever comes next in their lives in terms of relationships, education, and/or career. We also offer workshops throughout the year that focus on professional development topics such as interviewing skills for women, pay negotiation, and more."
If a workshop doesn't sound like the best option for a survivor, then the Women's Success Center also offers one-on-one appointments to help women plan for their future. "These appointments are designed to individually assess needs and barriers and provide guidance and referrals to community and campus resources," Coutts said. "Questions about returning to school, how to access community employment agencies, and needs for personal and family resources can be addressed."
However, Coutts said, appointments are only offered to assist with means and planning for the future. "For survivors of domestic violence, this appointment is not intended to replace the services provided by local victim advocates who can address victims' reparations, restraining orders, or safety issues."
While there are many resources available to those who have experienced domestic violence, Kassel said it may not be easy for an individual to decide on a course of action. Kassel and Chief Darren Falslev of the American Fork Police Department put together a series of videos to inform, and help those who are experiencing domestic violence or know someone who is. Each of the videos is designed to be informative, inspiring, and helpful. 
Kassel said now is the time to recommit to being aware and taking action on behalf of those who are in abusive situations. "Domestic violence abuse thrives in secrecy," Kassel said. "Each of us plays a vital role in ending the cycle of abuse. If you are being abused or if you know someone is being abused, don't be afraid to tell someone, tell anyone, tell everyone!"