COVID-19 Modified Operations
Due to the COVID-19 quarantine procedures, UVU will be operating under modified conditions.
For the latest from UVU on the coronavirus and frequently asked questions, go to the 
UVU Safety coronavirus website
.
For more information, visit the Return to Campus website.
Find Your Way Around UVU
UVU's service region includes Utah, Wasatch, and Summit counties — and the university has buildings and services for counties and beyond. To learn more, choose an option below as a starting point.
To print a map, click the print icon at the top right of the map area and then click Generate Print Map below it. You can zoom in or out and move the map so the area you want to print appears inside the red box. Then scroll down to the bottom of the left margin to set print settings, and click Generate Print Map. You will then get your printer options. Select a printer and then print.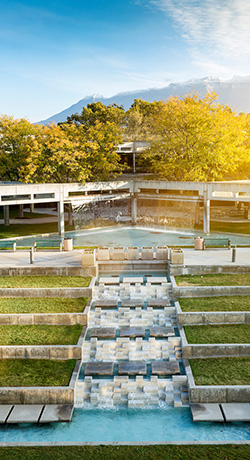 UVU
Utah Valley University Main Campus
UVU's Main Orem Campus serves tens of thousands of students and is characterized by state-of-the-art architecture, globally competitive programs, and world-class staff.
Resources
For directions to UVU or nearby places to stay the night, refer to Resources.